Contact Information
---
Mailing Address
Department of Biomedical and Molecular Sciences
Queen's University
Botterell Hall, room 438
Kingston, ON K7L 3N6
Canada
Street Address
18 Stuart Street
Phone
Office:
613 533-3107
Laboratory:
613 533-6340;
613 533-6000, ext. 78341
Fax
613 533-6840, 6880
E-mail
martin.pare@queensu.ca


Directions to the Laboratory

---
The Visual Information Processing Laboratory is located in Botterell Hall (Building 40) on the main campus of Queen's University at the corner of Stuart Street and Arch Street.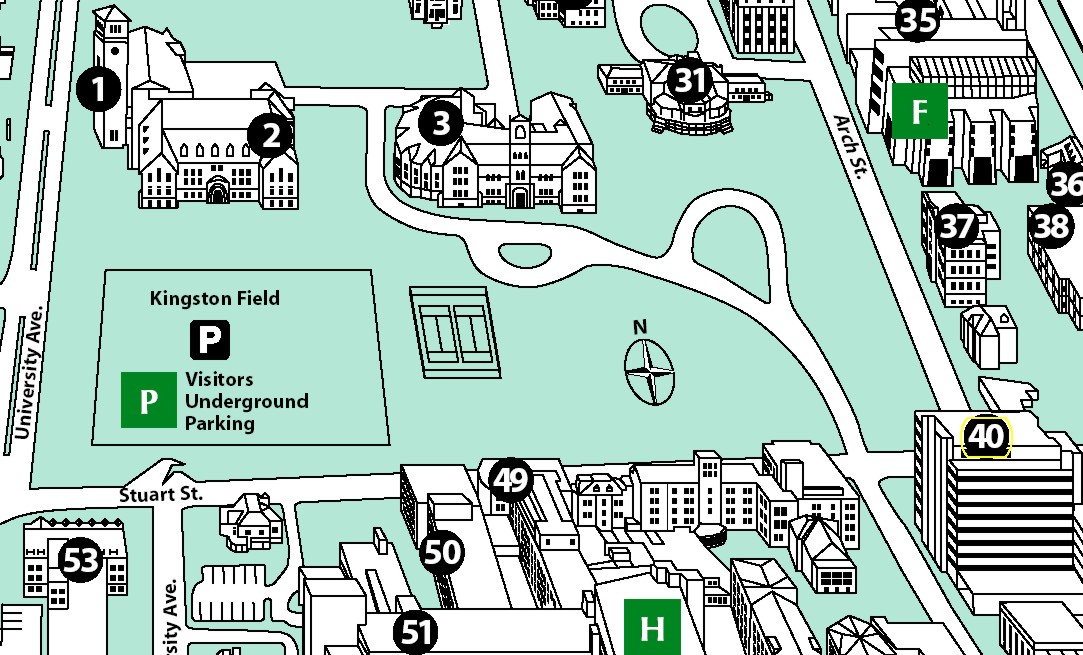 Directions to Queen's University
From Highway 401 (Macdonald-Cartier Freeway), exit at Sir John A Macdonald Blvd. (exit 615) and drive south to Union Street. Turn left at the lights and travel six blocks to get to the main campus (turn right at the lights and you're on west campus). To get to underground parking, turn right onto University Avenue and left onto Stuart Street. It is on your immediate left across from the Kingston General Hospital. There is no free parking on campus.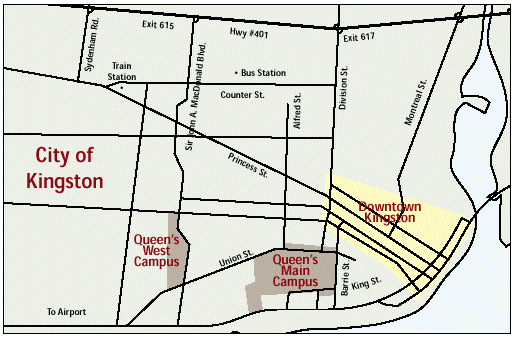 Rail
Via Rail Kingston Via Rail provides business and leisure travelers with convenient rail service to and from the City of Kingston. With 22 departures and arrivals daily, Kingston's station services over 400,000 passengers annually and is considered the 4th busiest among active VIA Rail stations. With connections to and from major city centers such as Montreal, Ottawa and Toronto, Via Rail provides an ideal vehicle for those wishing to travel to and from the City of Kingston. For a listing of fares and schedules, please call (613) 546-2708 or visit the Via Rail website at www.viarail.ca
Bus Lines
Coach Canada/Trentway-Wager
Servicing over 350,000 passengers via the Kingston terminal in 1999, CoachCanada /Trentway-Wager Bus Lines operates, on average, 25 daily departures and arrivals at the City of Kingston terminal. Providing passengers with quality service and convenient connections to and from major city centers such as Toronto, Montreal, Ottawa, Cornwall, and Peterborough, CoachCanada/Trentway-Wager provides passenger, charter and cargo services to and from the City of Kingston. For more information on bus schedules and fares please call (613) 547-4916 or visit www.coachcanada.com
Voyageur Bus Lines and Parbus
Voyageur Bus Lines also provides service to and from the Kingston terminal. There are nine daily departures and arrivals providing convenient connections to Ottawa. Voyageur Bus Lines also provides cargo services via Parbus Courier Service. For more information on both of these services call (613) 547-4916 or visit www.voyageur.com
Air
Norman Rogers Airport
In 1999, over 77,000 passengers and 51,000 commercial, chartered and cargo aircraft were serviced through the Norman Rogers Airport in Kingston. Providing cargo services 3 times daily via Skylink and with 13 daily commercial departures and arrivals that provide connections to and from Toronto's Pearson International Airport, Norman Rogers Airport is Kingston's link to all global destinations. For more information on the flights servicing the Kingston region via Air Ontario, or Voyageur Airlines, please consult your local travel agent. For additional service inquiries please contact the airport's manager Brad Finch at (613) 389-6404.
www.city.kingston.on.ca